Chasing Danger
Two Chasing Danger Books Are Now Available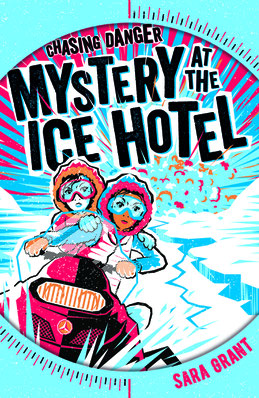 Out Now!
Mystery at the Ice Hotel
After surviving a pirate attack in the tropics, teens Chase and Mackenzie escape to an exclusive resort in the Arctic Circle. But just after they arrive, suspicious accidents begin to occur. It seems like someone's trying to scare away the guests. When the accidents turn deadly, it's up to the girls to figure out whodunit … before they become the next victims.
This holiday's going to be killer!
About the first Chasing Danger Adventure...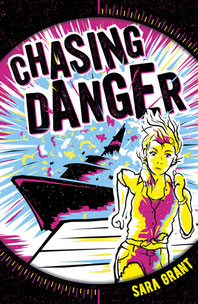 "I couldn't shake the feeling that this vacation might actually kill me."
When fourteen-year-old Chase Armstrong is sent to visit her grandmother at a remote tropical resort, she's looking forward to sunbathing, swimming and snorkelling. The last thing she expects is danger. But she's in for some surprises. She discovers a  girl  hiding out on the island and uncovers a devastating secret about the mum she's never known. When modern-day pirates attack the island, it's up to Chase to outrun, out-think and outfight the pirates. . . before it's too late!
What Readers Are Saying...
"I LOVED Chasing Danger! About time we had a hung-ho,un-girly, gutsy heroine, who isn't afraid to stand out from the crowd and make her own decisions. Already have students I want to recommend it to. There's definitely a gap for this type of book at the minute!" -- Nikki Heath, School Librarian at Werneth School.
"Chasing Danger is a mystery/thriller story set on an over-60s holiday resort in the Maldives with no TV or wifi. 14 year old Chase is convinced she might die of boredom. Instead Chase, and her new friend Mackenzie, barely have time to dip their toes in the aqua lagoon before they must defend the island from attack from modern-day pirates. The action is intense, the plot twists are breathtaking and Chase and Mackenzie are fab, hilarious, heroines. It's Charlie's Angels for middle grade and the start of a brilliant new series." -- Relly Annett-Baker, MG Strikes Back
"Mystery At The Ice Hotel was a fresh, exciting and invigorating read - that kept me on tenterhooks from the first to the very last page and gave me hope for a whole generation of girls and boys who would get to experience an adventure book with two female heroes at its heart!" -- Delightful Book Reviews
"Absolutely crammed full of action from start to finish.  It will leave you gasping for breath and debating your own survival skills in the same situation!" -- Library Girl and Book Boy
"Not one but two brilliant female characters going up against the villains normally featuring boys makes for an outstanding read. Both Mackenzie and Chase are my favorite characters in a long time...A fantastic story featuring friendship, family and the ability to find a dead body even in the Arctic make this a gripping read." -- The Bookish Outsider
"When modern-day pirates attack the resort, it is up to Chase and her new friend Mackenzie to save themselves, her grandmother, and the entire island, too." -- BookTrust
"A strong and courageous heroine and an exciting location - a perfect mix to bring us an engrossing read, full of pacy action with plenty of danger." -- parentsintouch.co.uk
Discussion Questions and Writing Exercises
Middle Grade Strikes Back
My first blog on Chasing Danger was over at MG (Middle Grade) Strikes Back. I share a little about the inspiration for my news series and my love of characters -- like Chase Armstrong in Chasing Danger -- who changes from ordinary to extraordinary.  Click here to read my blog post.