Welcome to the Edinburgh Book Hunt!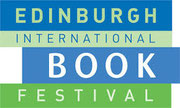 Win signed copies of 10 amazing YA titles!
I'm thrilled to once again be speaking at the Edinburgh Book Festival.
This year I've joined four other incredible authors of young adult fiction for a pre-festival book hunt.
If you'd like to win signed copies of our books, all you have to do is read this blog, find the highlighted number and do the task at the end of this post. Then follow the link to the next blog. Once you've visited them all – add the numbers together and email the result to ya.edinburgh.book.hunt@gmail.com. A winner will be chosen at random from correct entries. We welcome entries from around the world! Our book hunt closes at midnight GMT on 26th August 2013. 
At the Edinburgh Book Festival, I'll be promoting my new YA thriller Half Lives -- which is two stories twisted and tangled together: 
Icie is a typical teenager until disaster strikes.
Her only hope of survival is escaping to a top-secret bunker.
Hundreds of years later, 18-year-old Beckett leads a cult that worships a sacred Mountain. But Beckett and his beliefs are under attack.
Icie and Beckett must fight to survive. They are separated by time but connected by a dangerous secret that both must protect as any cost.
Half Lives is a story told in two voices from a pre- and post-apocalyptic time -- challenging the nature of faith and the power of miscommunication but most of all the strength of the human spirit to adapt and survive.
I will appear with Lenore Appelhans, author of Level 2: The Memory Chronicles. 
 Monday 26th August
6 – 7 p.m.
Baillie Gifford Imagination Lab
Lenore and I will discuss our sci-fi adventures, which both combine intrigue and romance across time and reality. For more details or to buy tickets visit:
https://www.edbookfest.co.uk/the-festival/whats-on/lenore-appelhans-sara-grant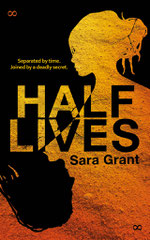 "Grant mines fresh material from the dystopian genre through an intriguing scenario and approach to the form...Grant's choice to tell two stories simultaneously works quite well, glimpses of each world hinting at the other...Each story line stands on its own, but together they form a thought-provoking study of faith, misunderstanding, and survival."
-- Publishers Weekly
I hope you'll join me, Teri, Sharon, Julie and Claire on our book hunt but also at the festival! As always the Festival has an incredible line up of authors! All the details are here: https://www.edbookfest.co.uk/
The Task:
Follow @AuthorSaraGrant on Twitter, and tweet this:
"Enter to win 10 signed YA books on the #YAEdinburghBookHunt! Details at http://www.sara-grant.com/teen-readers-home-page/"
OR If you're not on Twitter, share the details on your social media of choice or email a few friends and copy sara@sara-grant.com on your message!
The next blog to visit is....
http://clairemerlebooks.wordpress.com
Learn more about Claire Merle and her book The Fall!
Good luck!